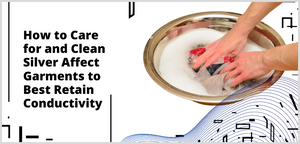 Pure silver metal is a well-documented antimicrobial that has been proven to kill bacteria and fungi. So you do not need to wash it as frequently as traditional garments. 
Silver is a conductive matter, which is a specified material that directs electricity and blocks and/or redirects the flow of electrical currents. So it is extremely important that you follow the care instructions to keep the conductivity strong in the lining. 
Any garment, no matter the brand, made with conductive metals such as silver, copper, and/or nickel, will lose its shielding ability (conductivity) as the garments are used. If anyone claims this to be false, RUN the other way. The way the garment is cared for will determine its shielding power over time.
The absolute best way to keep Silver Affect garments conductive for the longest possible time is to hand wash in room temperature water or spot clean as needed and hang to air dry. See cleaning solution recommendations below.
Outer layer: 95% organic cotton, 5% spandex
Lining: 83% modal, 17% nylon with 99% pure silver knit
LINING CARE
Shades, color differences, and discolorations are NOT manufacturing defects and are part of the normal look of the product. To ensure the product retains its functionality even after several washes, please observe the following care instructions:
HAND WASH (for best results)
Use natural, non-synthetic chemical-based cleaning detergents 
CLICK for cleaning solution recommendations.
Use a large container, box, sink, or tub, fill with room temperature water, and mix in the detergent. 
Soak the garment in the water and use your hands to create light friction to the areas of concern. 
Remove the garment from the water, lay the garment flat, and slide the water off the garment starting from the top, working your way down to the bottom. Do NOT aggressively wring out the garment, it can damage the silver threads if squeezed too tight for long periods of time while wet. 
Hang dry, NEVER put in the dryer. 
See image below for detailed instructions…. 
Machine cleaning (We do NOT recommend this)
The product can be washed in a home washing machine at a temperature of 30°C / 86°F about 150 times.
At a washing temperature of 60°C / 140°F, it can be washed about 50 times without any alteration in its specified characteristics. 
A higher washing temperature is not necessary due to the product's anti-bacterial characteristics. DO NOT use disinfectant cleaning products that contain chlorine, nor any fabric softeners.
Please do not use chlorine or bleach. The silver coating will be damaged by the chlorine and will lose its functionality.
Use a gentle setting, as the sensitive surface of the product can be destroyed by direct contact with heat.
Dry cleaning will permanently damage the product!
Iron at a very low temperature without the use of steam.
Only use gentle washing powder!
Recycling Program 
Silver Affect is a resource for those who need daily relief from EMF emissions. We also understand the importance of being aware of how consumer products affect the environment. We created a Recycling exchange program, where every garment is eligible for a free return after 1-year for a HUGE discount on a replacement garment. We will recycle the textiles and keep you protected with a fresh EMF Shielding Wardrobe! Check out our latest collection HERE. 
Contact us if you have additional questions customerservice@silveraffect.com 
DISCLAIMER: SILVER AFFECT does not accept any liability for damages/injuries incurred as a result of improper handling or incorrect use. We recommend that customers carry out washing tests according to the product's specifications. Please note that the surface resistance of the product may change on account of an individual's sweat composition and possibly also if he or she is taking particular medicines. We can accept no liability for this.