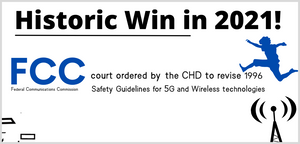 Landmark Verdict | CHD Wins Case Against FCC on Radiation Risk of 5G and Wireless Technologies
[Electromagnetic Sensitivity: Is EMF Harmful to Human Health?]
The electromagnetic field (EMF) is harmful to human health – that was the landmark verdict reached by the US Court of Appeals in the Children's Health Defense (CHD) case against the Federal Communications Commission (FCC). The FCC was accused of failing to review its 1996 health and safety guidelines on wireless-based technologies like 5G.
Publishing its decision in August 2021, the court ruled that non-cancer evidence for the harmful effects of wireless technology had not been considered. 
As the court's judgment read:
"The case be remanded to the commission to provide a reasoned explanation for its determination that its guidelines adequately protect against harmful effects of exposure to radiofrequency radiation…"
Indeed, over 11,000 pages of evidence detailing how EMF is harmful to human health were submitted. Including previously ignored evidence of existing widespread sickness.
Scott McCollough, who led the CHD's case, said:
"This is a historic win. The FCC will have to re-open the proceeding and for the first time meaningfully and responsibly confront the vast amounts of scientific and medical evidence showing that current guidelines do not adequately protect health and the environment."
The ruling came in a two-to-one panel decision. Both Judge Robert Wilkins and Judge Patricia Millet voted to reprimand the FCC, while Judge Karen Henderson issued her dissent.
The 1996 FCC Guidelines regulate the radiation emitted by wireless technology like cell phones, iPads, cell towers, and Wi-Fi. However, despite supposedly following the facts, the guideline only protected against the thermal effect of radiation. 
Scientists, medical organizations, and doctors submitted thousands of comments and scientific evidence. Still, the FCC refused to reassess the rules. The severe harms from pulsed and modulated RF radiation at non-thermal levels were ignored.
Now, following the ruling, the evidence is clear. The danger of EMF hypersensitivity is a known fact. Indeed, part of the CHD's testimony came from physicians who had seen wireless sickness up close.
This ruling has far-reaching implications.
As Attorney Dafna Tachover, CHD's director of 5G and Wireless Harms Project, said:
"Finally, the truth is out. I am hopeful that following this decision, the FCC will do the right thing and halt any further deployment of 5G."
With even more wireless and 5G technology, it's critical to stay protected. Fashion is one-way to adapt. New fabrics can provide 98% shielding power against harmful excessive radiation exposure.
Silver Affect products are an ideal short-term solution to EMF exposure in uncontrollable environments.
Common symptoms for people with EMF hypersensitivity include headaches and brain fog, numb limbs, sharp pain, nausea and discomfort, depression, anxiety, immune suppression, and more.
Using silver's naturally conductive properties, we can block electromagnetic wavelengths. All Silver Affect's fashion-conscious products come woven with silver protection. 
Protecting yourself doesn't mean sacrificing style. From boxer shorts to sweaters, we've developed stylish EMF-protective clothing. 
As the evidence mounts, defending against EMF radiation has never been more important. But no one said you shouldn't look good doing it.
It's time for fashion to adapt as the use of technology earns its place as a permanent fixture in everyday human life. 
RESOURCES:
"Historic Win: CHD Wins Case Against FCC on Safety Guidelines for 5G and Wireless"

https://childrenshealthdefense.org/defender/chd-wins-case-fcc-safety-guidelines-5g-wireless/

"11,000 Pages of Evidence Filed in Landmark 5G Case Against the FCC, Hearing Set for Jan.25" 

https://childrenshealthdefense.org/defender/landmark-5g-case-against-fcc-hearing-set-jan-25/